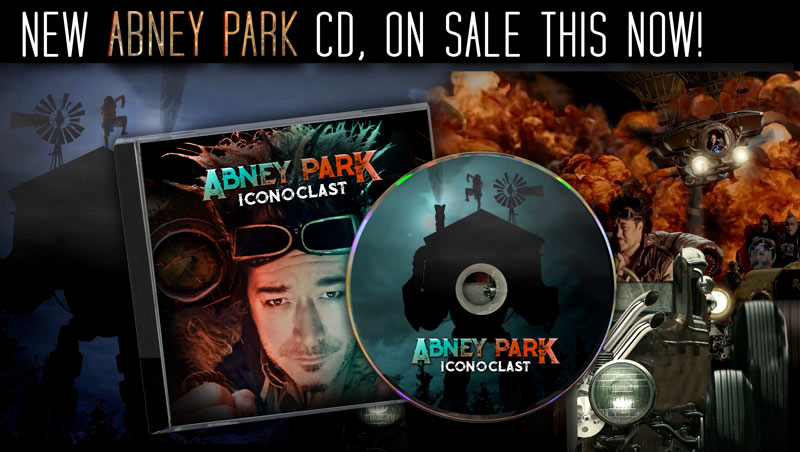 Dark Vocation - Abney Park's Distopian Nightmare, fueled by sinister lurkers, and wild flying machines, is the second music video from our new album, Scallywag.




Abney Park's New Album:

"SCALLYWAG"
On Sale November 3rd

featuring:

• Scallywag Swing
• Clockwork Courtesan
• Dark Vocation
• Proclivity of Lies
• We're Going Down
• Two Little Words
• Play
• Golden Cage
• Artificial Windows
• Life in an Instant
• Glass Jaw
• Root of all Evil

Available as:

CD

Deluxe Autographed CD
with digital goodie bag!
(Digital goodie bag features unreleased music,
high resolution art, instrumental versions of
songs with lyrics sheets, introspections, and more!

Instant Download

Deluxe Instant Download
with digital goodiebag.
Airship Pirates & Giant Octopusses, in Abney Park's tribute to Georges Méliès.
Abney Park has just released a new video, for their latest song, "We're Going Down", and I think it's exactly what fans have been waiting for. It's vintage adventure, amazing music, crazy vessels, Airship Pirates, all packaged in a campy steampunk wrapper.

Please share this with freinds and family!
Here is the link: "https://youtu.be/1rcTkUuyfBA"Just cut and paste that anywhere to share it.

LISTEN TO OUR SELECTIONS FROM OUR LAST ALBUM, "CRASH":